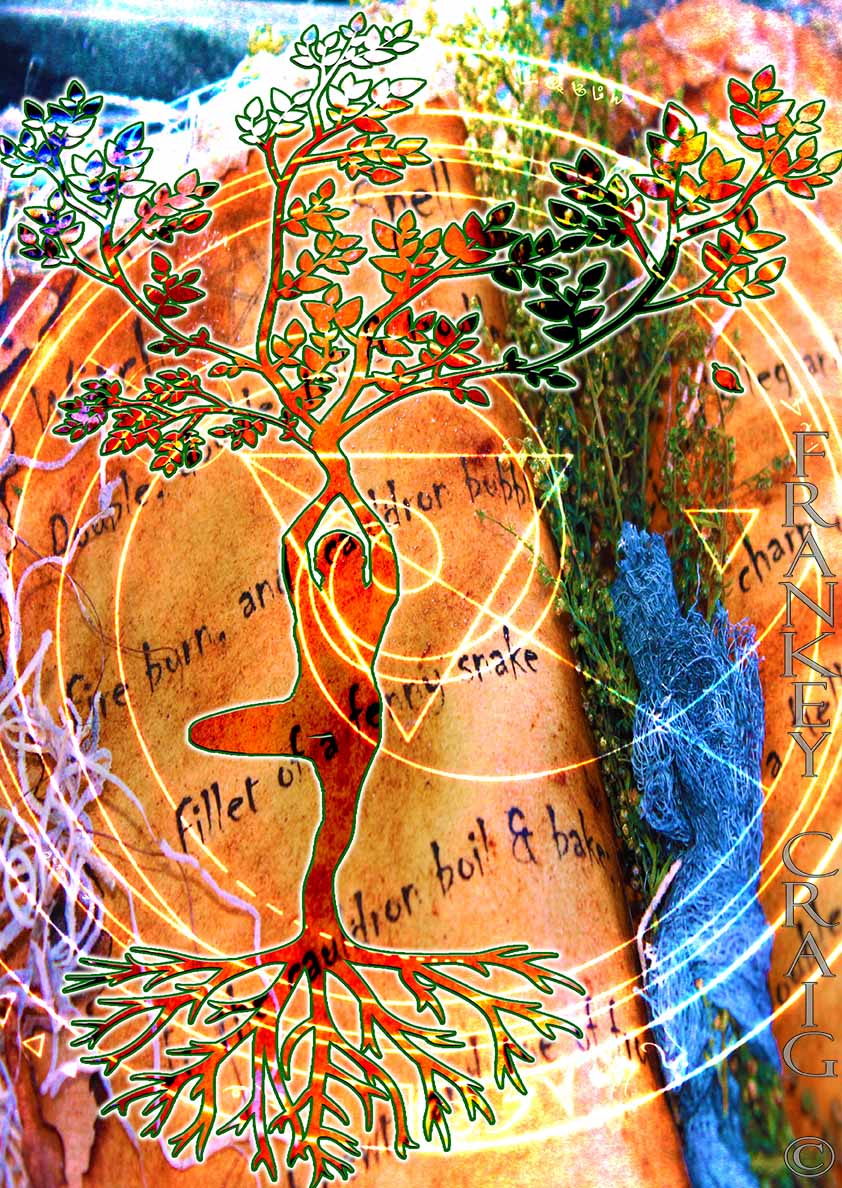 The name of the artwork is 'Practical Magic'. I love that movie! I'm betting you do too!
"My darling girl, when are you going to realize that being normal is not necessarily a virtue? It rather denotes a lack of courage." - Aunt Frances" ― Alice Hoffman, Practical Magic
Normal is so overrated right?!
"Every single soul on this earth is unique and has something unique to bring to the rest of the world. In fact, it is your purpose to awaken inwardly and then to express that inward purpose outwardly''. - http://universoulawakening.com/why-normal-is-overrated/
You are a natural witch. Deeply intuitive, connected with nature and work in harmony with the elements. You are practical, down-to-earth, and do your magical workings in solitude. What makes you a natural witch is that you work with your intuition. Being a Witch is not something you needed to study.
For many years you have been learning through experience, gaining practical knowledge and I feel you have a lot of wisdom to share with others. You have the power to inspire.
"From the dawn of time, education has been in existence in one form or another. Societies knew early on that to survive knowledge and experiences must be passed onto future generations. By passing on this knowledge people could take what others learned then build upon it''. - https://www.bartleby.com/essay/The-Passing-on-of-Knowledge-to-Future-P3A6DPZVC
"Share your natural gifts with others. You are here to help humanity in a positive way. Refrain from sharing your personal intentions, now, as they will be easily influenced with other's distorted energy.
You have the power to create and shine your light upon the world! Examine your thought patterns and energy and amplify your intentions. Positive thought and creativity will bring you closer to your goals, one step at a time. Intentions are everything right now! Focus your attention on seeing the magic in all things including the beauty residing in the darkness. Look towards the stars for guidance. Astrological influences are high now.
Manifest the power of energetic thought and investigate alchemic practices. This will assist you in understanding natural systems such as the elements, nature, medicine, astrology and life's synchronicities. With the right mindset, you can create and manifest anything!" - Manifestation, from the Sacred Power Reading Cards, by Anna Stark
There are many symbols in this artwork, perhaps you will like to explore them or maybe you already have…. The two symbols I feel drawn to talk about are the triangle and the spiral.
"The triangle can symbolize how working together can unite people. They will use their traits that are the most strong ones they have. It can represent the process of development and getting to the highest point of a change that is spiritual. It can symbolize achieving dreams and ambitions''. -  https://www.sunsigns.org/triangle-meaning/
The triangle is connected to number three. The trinity, which is all about movement, change and cycles.
With the movement of three, magic can really be born. All divine aspects of your awareness come into alignment with mind, body and spirit.
'' Angel Number 3 is an indication that your angels are trying to get your attention. The angels and Ascended Masters want you to follow your intuition and inner-wisdom so that you are able to take appropriate action/s at this time. Use your creative skills and abilities to manifest your desires and enhance your life and that of others. The angels encourage you to follow your life path and soul mission with optimism and enthusiasm.
When Angel Number 3 appears it suggests that your prayers and positive affirmations have been heard and are being responded to by the Universal Energies. Have faith that your goals and desires will manifest in your life in Divine right time. Trust your personal skills and talents and the love and support from the angels.
Angel Number 3 encourages you to be communicative and social with others and to live your life with joy, optimism and spontaneity". - http://sacredscribesangelnumbers.blogspot.com/2011/06/angel-number-3.html
The spiral is an ancient symbol that speaks to your soul representing eternity, change/growth, and even the evolution or movement of the universe. The spiral is widely associated with the Goddess/Divine Feminine energy as well.
"Spirals are believed to represent movement through experiences in life. The Celts in particularly viewed this symbol as one of progressive development, growth and expansion as we make our journey towards the center and towards the light. At the spiral's center is where we find spiritual balance and realize our deep connection to the eternal forces of nature and the universe.''. - http://goldenageofgaia.com/2011/08/16/the-sacred-spiral-our-spiraling-journey-from-the-center-to-ascension/
~~~~~~~~~~~~~~~~~~~~~~~~~~~~~~~~~~~~~~~~~~~~~~~~~~~~~~~~~~~~~~~~~~~~~~
This reading is designed for you to re-read and really explore. Use this reading as a guide for study, a tool for spiritual growth. You have been provided with the resources for further research and you are encouraged to do so. Knowledge, truly is power. Use, your intuition to guide you to what feels true to you. It is through learning that our Souls evolve.
ARTWORK PRINTS AT
https://www.redbubble.com/people/ourpsychicart/works/30155834-practical-magic
 
 
MORE READINGS AT