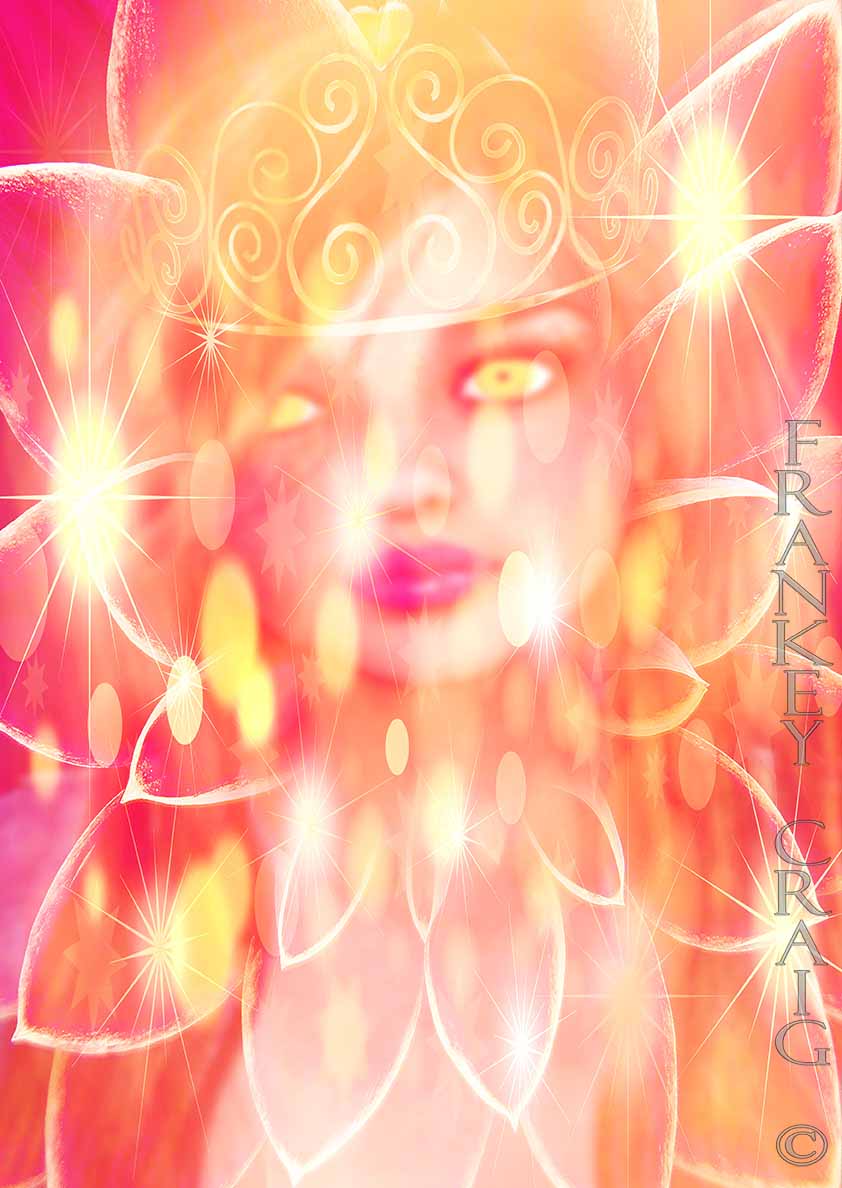 The name of the artwork is 'Dahlia, the Fairy Queen'. This beautiful fairy queen, named Dahlia comes with healing from the fairy realm and the medicinal energies of the Dahlia flower.
"The Dahlia you brought to our isle
Your praises forever shall speak
'Mid gardens as sweet as your smile,
And in colour as bright as your cheek."
-Lord Holland
"Dignity can be difficult to muster in many situations; graciously, however, the dahlia promotes a strong sense of dignity. It is the ideal flower to connect with when going into a challenging situation, which in modern life might be any time at all.
Dahlia is symbolic of Elegance and Dignity - The Dahlia is a native of South America, but is now extensively cultivated in Europe and North America". - http://feritradition.org/grimoire/garden/dahlia.html
"The common garden variety dahlia was once an important root crop and medicinal plant among the pre-Columbian Indians of central Mexico, Yucatan and Guatemala. Its roots were valued both for the nutritious inulin stored inside them and for the antibiotic compounds concentrated in the skin of the tubers". -  https://www.ncbi.nlm.nih.gov/pubmed/3910964
"The Dahlia Flower's Message Is… Celebrate what makes you different. Seek out the new pleasures in life and keep moving through the challenges instead of letting them hold you back. Discover what the world holds for you, and watch out for pitfalls along the way". - http://www.flowermeaning.com/dahlia-flower-meaning/
Try working with Dahlia Flower Essence as it will assist your healing process greatly.
"Dahlia - Easing Extreme Emotional Stress, Restoring Optimism and Resilience. Dahlia is another very important flower essence for today's world, given the tremendous emotional pressure in the workplace, in relationships, in financial situations, and at school. This remedy improves emotional resilience and stamina, as well as stimulating positive feelings of faith, optimism, and confidence. It helps overly logical people integrate their emotions". - http://sbquantumhealth.com/index.php?page=singles
The Dahlia Fairy Queen wraps you in a blanket of vibrant red, pink and golden energy. The vibrant red energies activate your base chakra and bring in a boost of energy! The golden energy activates your sacral chakra bringing in an uplifting joyful shift in your mood and the pink energy activates your crown chakra, opening you to higher consciousness and divine wisdom that will aid your understanding of your experiences and allow you to move forwards on your journey of life.
When you are feeling out of balance, mentally, emotionally, or physically, find a quiet place and call on Dahlia to heal your body, mind, and soul. Relax and enjoy. If you are sensitive to energy, you will feel a wonderful energetic massage that leaves you feeling refreshed and happy.
~~~~~~~~~~~~~~~~~~~~~~~~~~~~~~~~~~~~~~~~~~~~~~~~~~~~~~~~~~~~~~~~~~~~~~
This reading is designed for you to re-read and really explore. Use this reading as a guide for study, a tool for spiritual growth. You have been provided with the resources for further research and you are encouraged to do so. Knowledge, truly is power. Use, your intuition to guide you to what feels true to you. It is through learning that our Souls evolve.
ARTWORK PRINTS AT
https://www.redbubble.com/people/ourpsychicart/works/30125307-dahlia-the-fairy-queen
 
 
MORE READINGS AT 
http://www.ourpsychicart.com/readings