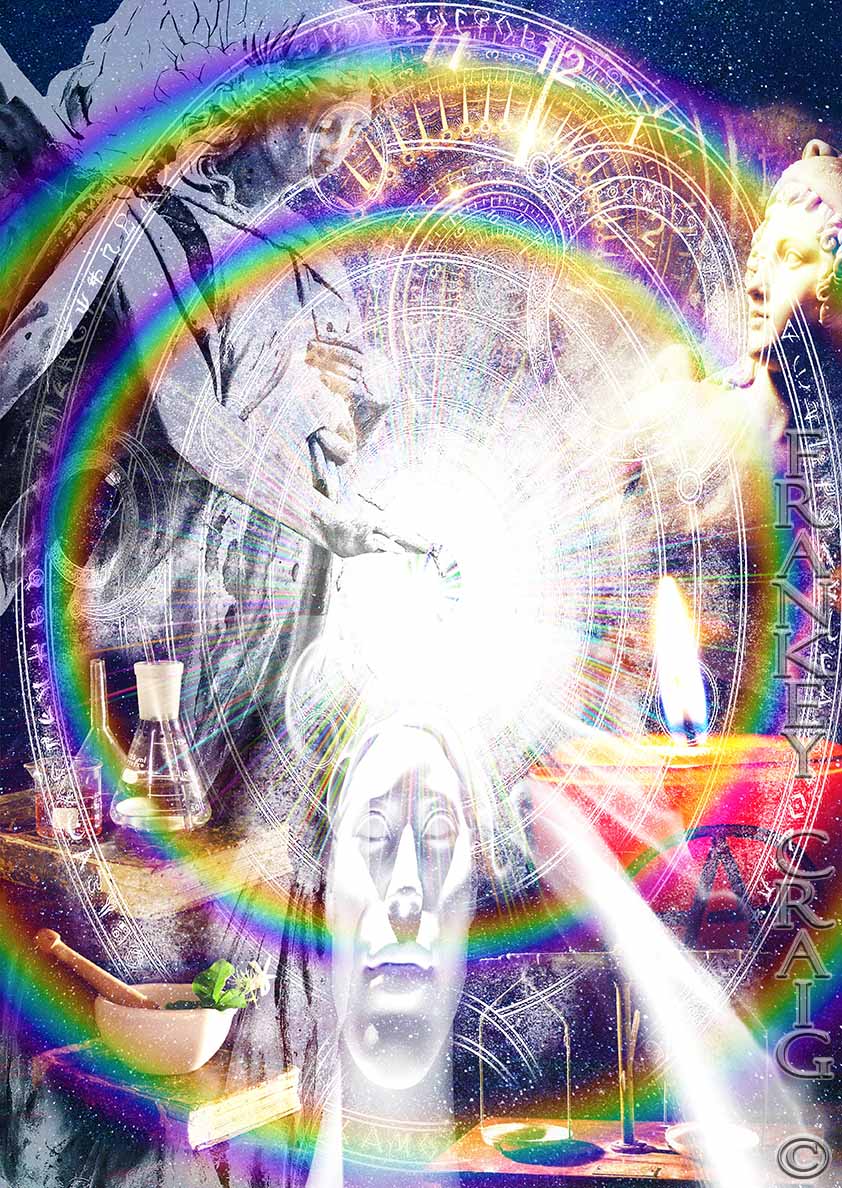 The name of the artwork is 'Alchemy of the Soul'. Through the darkness, a great transformation is occurring. There are many layers to this image. Lots of activations and knowledge to integrate.
"In every heart there is an inner room, where we can hold our greatest treasures and our deepest pain." — Marianne Williamson
What does your heart feel like right now? Is it heavy? A little broken? Your heart chakra is in need of some tlc.
There is no quick fix for a heart that is hurting. Time doesn't heal but it will give you the space to learn new tools to continue living your new reality.
"Heart chakra pain is often associated with having a "broken heart," from being let down in some way by someone you love or loved. Rejection, abuse, grief, trauma and loss are emotionally painful to experience and can leave an energetic imprint in the heart chakra''. - www.chakras.info/heart-chakra-pain/
Please explore healing for the heart chakra. Even if it is only eating more green raw food, or even wearing the colour green to begin with. This will help to activate your healing process.
"Suppose you are impressed with a particular cloud in the sky. When it is time for that cloud to become the rain you won't see that cloud anymore and you will cry. But if you know that the cloud has been transformed into the rain and the rain is calling you, "Darling, I am here, I'm here," if you have that kind of capacity of recognizing the continuation of that manifestation, you don't have to live in despair and grief. That is why for those who have lost someone who is close to him or to her I advise that they look deeply within and see that the one who was close is still there, somehow, and with the practice of deep looking they can recognize his or her presence very close to him or to her. - Thich Nhat Hanh
"Sadness plays an essential role. It forces us to regroup—physically, cognitively, emotionally, socially, and spiritually. When we are sad, we instinctively turn inward. We withdraw. We slow down. It's as if our soul presses the pause button and says, "Whoa, whoa, whoaaa. Time out. I need to acknowledge what's happened here and really consider what I want to do next."
This very ability to consider our own existence is, in fact, what defines us as human beings. Unlike other animals, we are self-aware. And to be self-aware is to feel sadness but also joy and timeless love.
I sometimes call the necessary sadness of grief "sitting in your wound." When you sit in the wound of your grief, you surrender to it. You acquiesce to the instinct to slow down and turn inward. You allow yourself to appropriately wallow in the pain. You shut the world out for a time so that, eventually, you have created space to let the world back in.
While grief affects all aspects of your life—your physical, cognitive, emotional, social, and spiritual selves, it is fundamentally a spiritual journey. In grief, your understanding of who you are, why you are here, and whether or not life is worth living is challenged. A significant loss plunges you into what C.S. Lewis, Eckhart Tolle, and various Christian mystics have called "the dark night of the soul."
Life suddenly seems meaningless. Nothing makes sense. Everything you believed and held dear has been turned upside-down. The structure of your world collapses.
The dark night of the soul can be a long and very black night indeed. If you are struggling with depression after a loss, you are probably inhabiting that long, dark night. It is uncomfortable and scary. The pain of that place can seem intolerable, and yet the only way to emerge into the light of a new morning is to experience the night. As a wise person once observed, "Darkness is the chair upon which light sits." - centerforloss.com
"The deeper that sorrow carves into your being the more joy you can contain. Is not the cup that holds your wine the very cup that was burned in the potter's oven?"- Kahlil Gibran
Through this dark night, Alchemy of the Soul is happening.
"The study of alchemy is not just about turning lead (base into gold) but the return to consciousness in the alchemy of time''. - Elli Crystal
"In Carl Jung's work, he links alchemy with psychology, where alchemists are projecting their inner states towards external objects that are familiar to them. He notes the particular process in alchemy that correlates to the spiritual or psychological ones he used on his patients:
#1. Nigredo – the Blackening
The blackening is a stage of decomposition or breaking down of a matter into its prima materia. Spiritually it means to strip yourself until you are left with divine essence that is not linked to your physical self, much like baring your soul.
#2. Albedo – the Whitening
The purification process, albedo is to unite the irreconcilable opposites, like understanding your internal Yin and Yang. This step is to create a balance within your soul that was broken down during the blackening.
#3. Rubedo – the Reddening
The final step where you make the change permanent, once you are happy with things, it is time to make it real and final. Spiritually, it means to project your new soul outwards to the body. The outcome is a new person who is purified from the inside out.
In short, Soul Alchemy is a process of aligning the personality with the energy of the soul, and through the journey from unconsciousness to consciousness. This miracle development takes places within us, changing our mind and soul into something better. Soul Alchemy is proven by quantum physics that we create our own reality with our thoughts and beliefs. Hence the process starts with breaking down of our mind.
Our inbound thoughts and emotions affect our outward reality, as our perceptions and ideas shape things differently. We try to make ourselves better physically, but tend to forget about our soul or spiritual side. Currently, many try to make themselves feel powerful by making people around them less powerful, which is not healthy for the soul. If you feel empty of weak inside, it maybe your soul that is crying out for help.
There are many pathways into our inner world, Soul Alchemy is a well worn pathway that exists since Ancient Egypt. It is a journey to become more aware of how you experience your live. To be in touch to your subconscious, to find out if you are at the mercy of your unconscious beliefs. The first step in Soul Alchemy is the awareness about the existence of our souls. If you believe that you are unworthy and powerless, then the projected reality will be so. Once you are aware of the negative projection, you can start to initiate change.
Changing our belief pattern is the hardest part, but it is a necessary step to change our habitual thinking pattern and perception. Consciously changing our thoughts from negative to positive ones can be tricky, but it will get easier with constant practice. Our soul benefits greatly from this authentic empowerment. With a positive conscious thoughts, we can influence our unconscious thoughts deep within our souls.
Hence, Soul Alchemy is a way for you to heal your soul via exercises and constant practice, to purify your soul and take a journey towards perfection. Soul Alchemy is a helpful tool for those who are feeling tired spiritually, or feeling that the Universe is letting them down. Soul alchemy is a product of research and experience in human souls. Like the practitioners before us, it is not an easy process to undergo. The instructions might seem simple to perform, but it takes practice and perseverance to achieve a level of spiritual purification. It is a rewarding experience if you are successful''. - sunsigns.org
"Those of us who quest for truth through the alchemy of time and consciousness, are the modern-day alchemists. They seek truth and ancient wisdom brought forth in today's reality through the language of symbols to come manifest into conscious thought. We are going through the alchemy of time and consciousness as we return to our natural state of light. We are currently going through a merge on many levels of body, mind and soul. This is linked to the ancient teachings of alchemy as a transformation from one reality to another where one finds 'eternal life'. The Alchemist is the Wizard - He who helps us transform.
Part of this alchemical experience links with seeing double digits such as 11:11 which trigger this change in our DNA cellular codings. 11 is the double helix - activation of DNA - evolution of consciousness". - crystalinks.com
"The journey of the development of the ability of transmutation, is quite the journey to be on! First you awaken to the darkness that is in you, then you learn to accept it, then you learn to marry it with your light, and then, finally, you learn how to harness the dark energy through your bright energy in order to transmutate any darkness into brightness, into light and lightness. This is Soul Alchemy and sometimes it is thrust upon an individual and other times it is sought after by an individual. In any case, it is not an easy journey to surmount." ― C. JoyBell C.
You are not alone on your journey. There are many in spirit and higher realms rooting for you and supporting your evolution. You hear their whispers, see them in your dreams and meditations, and you feel them in your heart when your mind is still and your breath is deep.
Go deeper with your heart healing during meditation.
"As we heal through meditation, our hearts break open to feel fully. Powerful feelings, deep unspoken parts of ourselves arise, and our task in meditation is first to let them move through us, then to recognize them and allow them to sing their songs". - Jack Ornfeild
"Your grieving heart...
In the depths of your despair right now, you likely will not see the wisdom of the grief process. It's only later, in retrospect, that you'll realize how miraculously it swept you along toward a successful conclusion; providing just the right thing at just the time you needed it.
The message for you right now is this: trust the grief. As painful as this process is, grief is your friend and will guide you eventually and surely back to life". - recover-from-grief.com
~~~~~~~~~~~~~~~~~~~~~~~~~~~~~~~~~~~~~~~~~~~~~~~~~~~~~~~~~~~~~~~~~~~~~~
This reading is designed for you to re-read and really explore. Use this reading as a guide for study. You have been provided with the resources for further research and you are encouraged to do so. Knowledge, truly is power. Use, your intuition to guide you to what feels true to you. It is through learning that our Souls evolve.
ARTWORK PRINTS AT 
https://www.redbubble.com/people/ourpsychicart/works/29993994-alchemy-of-the-soul
 
 
MORE READINGS AT 
http://www.ourpsychicart.com/readings