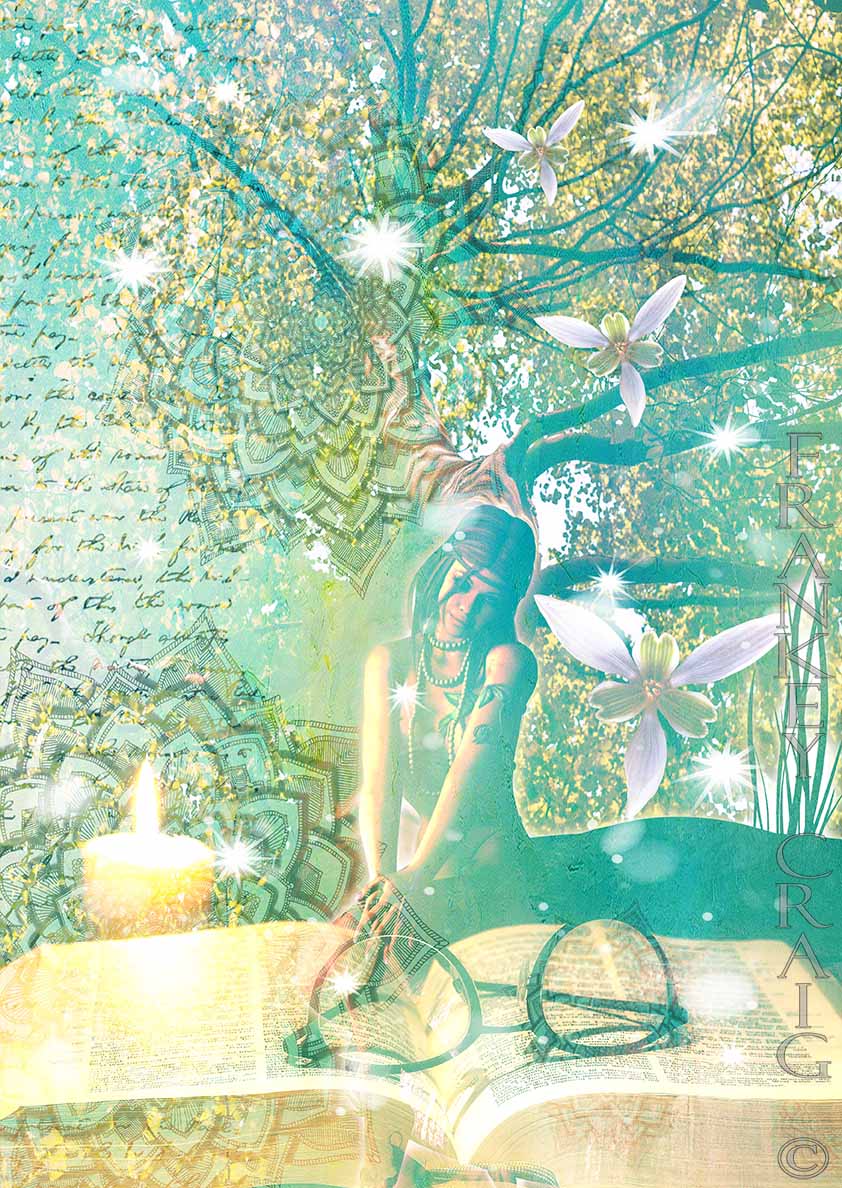 The title of the artwork is 'Nature's Knowledge' and it is just feeling of all the healing energy vibes that nature brings us. There is nothing nature can't heal. It energizes your mind, body and spirit.
"Nature is the source of all true knowledge. She has her own logic, her own laws, she has no effect without cause nor invention without necessity" [Leonardo da Vinci]
You have a deep connection with nature that goes back many lifetimes. You have walked this earth many times, in many bodies and still carry that knowledge within your DNA. Shaman, Medicine Woman, Druid, Nature Spirit. You have been so many. Your DNA is a blueprint that is storage for all kinds of information.
"Our DNA is therefore our personal blueprint and as such holds all our mental, physical, emotional and Spiritual information. The original Human Being had 12 Strands of DNA actively working and maintaining full function of the Human as a Spiritual Being. With our over preoccupation with left brained thinking and the closing down of our heart centers, these 'extra' DNA strands have been lost. The consequences of this loss are that we live in a spiritually deficient society and our intuitive and healing abilities have been hugely reduced. It has also resulted in us only accessing and using a very small part of our brains.
The human body is the most valuable thing we will ever own. It stores and holds a wealth of information, wisdom and knowledge on every aspect of ourselves, our world and all of life. Combinations of intelligence are stored within the Human and a great amount of data is stored inside the body. Inside our bodies are the formulas required to replicate other forms of intelligence throughout the Universe". [Kate Spreckley-spiritpathways.co.za]
You are one of the Earth's healers, you are being activated to remember lifetimes of healing knowledge, a history of Earth's medicines is in the process of being embodied. Perhaps you have already been studying holistic medicines? Perhaps you are thinking of learning a new modality to compliment your knowledge? Perhaps you want to teach it?
"Holistic medicine is the art and science of healing that addresses the whole person – body, mind, and spirit. The practice of holistic medicine integrates conventional and alternative therapies to prevent and treat disease, and most importantly, to promote optimal health. This condition of holistic health is defined as the unlimited and unimpeded free flow of life force energy through body, mind, and spirit.
Holistic medicine encompasses all safe and appropriate modalities of diagnosis and treatment. It includes analysis of physical, nutritional, environmental, emotional, spiritual and lifestyle elements. Holistic medicine focuses upon patient education and participation in the healing process". [ahha.org]
Does this interest you? I feel healing is something you are passionate about and with this Divine Knowledge you are assisting humanity to get back to their roots. You are helping others to remember how abundant and resourceful nature is. What a precious gift that has been bestowed upon us all and how all of our basic human requirements have already been provided for by Mother Nature herself.
The healing energies of the Green Ray are working with you. You will receive all of its benefits.
"Green. Healing properties: Green is the color of Nature and the earth. It is balance and harmony in essence and possesses a soothing influence upon both mind and body. It is neither relaxing nor astringent in its impact. Green can be used for just about any condition in need of healing". [deeptrancenow.com]
The healing properties of green are diverse, it links with and stimulates the Heart Chakra. Green affects blood pressure and all conditions of the heart. It has both an energizing effect and a moderating or soothing effect.
It cures hormonal imbalances. Stimulates growth hormone and rejuvenation. Cleans and purifies from germs, bacteria and rotting material. Harmonizes the digestion, stomach, liver and gall. Has a healing effect on kidneys. Increases immunity. Builds up muscles, bones and tissues. Stimulates inner peace. Strengthens the nervous system.
Because it is a combination of both yellow and blue, this energy brings growth, compassion, unconditional love, openness, forgiveness, acceptance and contentment.
Use it for nurturing, generosity, harmony, assertiveness and to help heal loss''. [healing-journeys-energy]
You can support your healing process right now by working with green energy. Eating more green food, perhaps wearing the colour green or using green crystals and green colour meditations. The best way to really absorb some green energy is to go for a nice long walk in nature, somewhere far away from the hustle and bustle of life where you can be in solitude with the trees and grass.
This is your activation to learn, grow, expand and evolve your holistic healing journey. May it bring you wisdom and knowledge to share with future generations.
~~~~~~~~~~~~~~~~~~~~~~~~~~~~~~~~~~~~~~~~~~~~~~~~~~~~~~
ARTWORK PRINTS AVAILABLE AT
https://www.redbubble.com/people/ourpsychicart/works/29894356-natures-knowledge
 
 
MORE READINGS AT 
http://www.ourpsychicart.com/readings