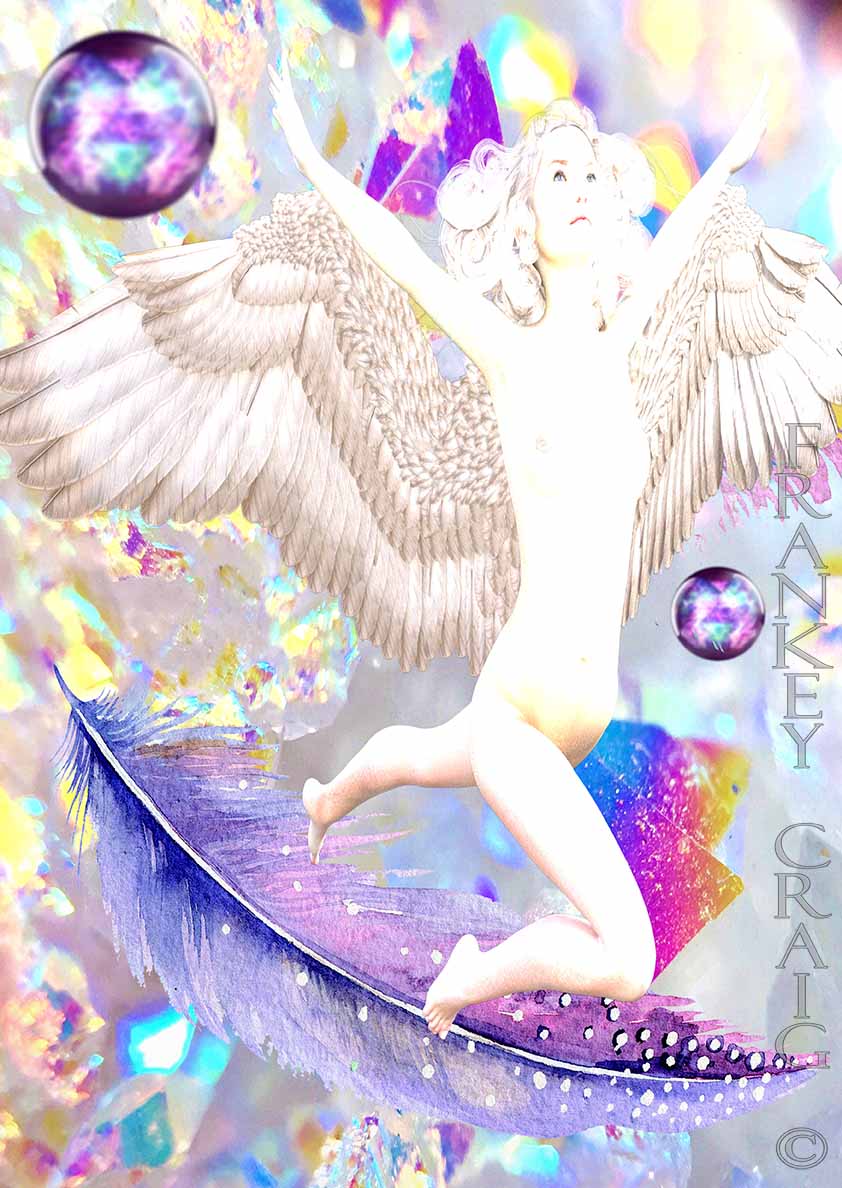 The artwork title was clear from the very start, 'Angel Aura' as the first layer in the image is of an angel aura quartz crystal. Although these crystals have been artificially enhanced by modern techniques they have become a very popular tool for expanding consciousness and because of this crystals high frequency it is a powerful healer for the physical and spiritual body. If you don't have one in your collection, this is your nudge to get one! In the meantime, I believe this artwork contains the same healing frequencies as the angel quartz crystal.
There are many types of Aura Quartz. Angel Quartz is also known as Opal Quartz - "Clear Quartz bonded with Platinum; creates a pearly sheen with pale rainbow iridescence. Opal Aura has a very intense, strong energy that cleanses the aura, and stimulates, balances and clears all chakras, integrating the light body into the physical dimension. It allows access to one's personal etheric realm where information concerning balance for this life cycle is presented. It is a crystal of joy, and like a rainbow, signifies hope and optimism. It facilitates a deep state of meditative awareness, grounding the information received into the physical body, and inspires a total union with the divine and cosmic consciousness. Opal Aura is also a stone of romance and love, and can bring both into one's life. It is highly beneficial in healing hurt and trauma, for multi-dimensional healing, and is an efficient receptor for programming. It may be used for cleansing and enhancing the organs, boosting the immune system, and for bringing the body into balance. It is also thought to soothe burns". [Melody En, 654][Hall, 231][Hall En, 93]
The Angel that you see in this image is a representation of you. She has an open heart, arms wide open to embrace whatever comes her way and she radiates so much white light that I had to get her to turn it down, otherwise, she would just be a silhouette to us.
This prompts the question, are you dimming your light so that you are not too bright for others? Are you afraid that it will make others feel uncomfortable if you expand?
Here is your reminder not to allow anyone, ever, to clip your beautiful wings. You are here to show others how fly.
You are surfing on a purple feather! Cool, huh?! She looks fully 'present'. She is mastering the ability to go with the flow, ride the waves of life and trust the natural ebb and flow.
The symbolic message in the purple feather is an acknowledgment of your psychic abilities. You are being called on for Spiritual Service and Visionary Leadership within the world. Poke, poke. Nudge, nudge!!!
By shining more Divine Light through your life experiences, you're then able to overflow the blessings of the Divine into the Earth and all of its inhabitants.
Love and desire are the spirit's wings to great deeds.
- Johann Wolfgang von Goethe -
You are not alone on this mission or journey, you have friends in high places. There are some orbs travelling with you, who are very wise and have a lot of information to share with you. I feel these are spirit guides, here to help you raise your vibration and enhance your healing and psychic abilities.
The colour purple will be beneficial to you. Wear purple clothes, eat purple food, work with purple crystals, do purple meditations, think purply thoughts!
ARTWORK PRINTS AVAILABLE AT 
https://www.redbubble.com/people/ourpsychicart/works/29788486-angel-aura