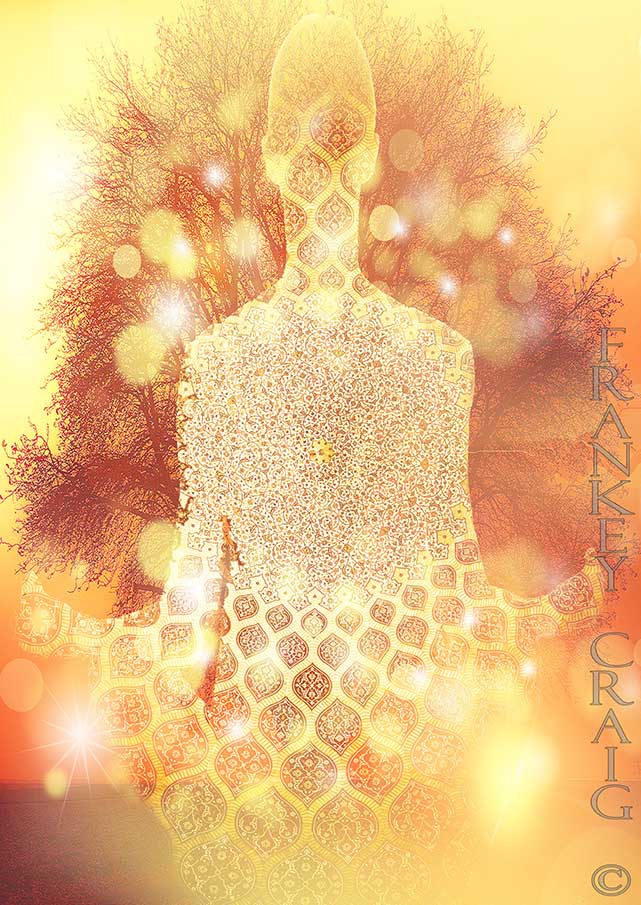 First, the colours I have chosen are in the warmer end of the spectrum. Oranges, golds and yellows all have healing qualities to them.
Orange - Connects to your womb area. Also, known as your Sacral Chakra. "The organs to which this chakra relates are uterus, large bowel, prostate, ovaries and testes.
On the psycho-spiritual level, this chakra relates to self respect. That is to say having the ability to give yourself the freedom to be yourself and to respect your own boundaries and requirements and, by the same token, having respect for the boundaries of others.
Orange is the colour of creativity and you should give yourself the space to have creative 'ME' time just for you". [colourtherapyhealing]
Try introducing more orange fruits and veggies to your diet to help to rebalance your sacral chakra.
Yellow - Connects to your stomach area. Also, known as your Solar Plexus Chakra. "The organs to which this chakra relates are the liver, spleen, stomach and small intestine. The endocrine gland is the pancreas.
On the psycho-spiritual level, yellow relates to self worth. How you feel about yourself and how you feel others perceive you. This is the area of the personality, the ego and the intellect and of self confidence". [colourtherapyhealing]
I encourage you to look for a yellow crystal to help to rebalance your solar plexus chakra. I also encourage you to build more confidence by stepping out of your comfort zone a little more. That is a very brave thing to do and the confidence found it going beyond what you think you can do is priceless. You will be amazed at what you can achieve.
Gold - is the colour of wisdom and enlightenment. You are currently at a point on your journey where it is time to evolve yet again. With all of the experience of the past and the opportunities of the present you are set to learn much more.
I choose a woman in meditation pose to represent you. Her body is filled with this beautiful intricate mandala pattern to represent all of the connections that you have in the life. All these connections go deeper than just your friends and family though. You are connected to everything on this planet and beyond. To nature and to the stars above. There is much more to life than just our immediate surroundings. A huge picture to see.
"We are all connected; to each other, biologically. To the earth, chemically. To the rest of the universe atomically. We are not figuratively, but literally stardust."
[Neil DeGrasse Tyson]
I felt like I wanted this woman in a relaxed meditation pose to represent the need for rest and rejuvenation. To honour this for yourself. I understand with life's busy schedules it is so easy to be doing something all of the time but when we do this, we give all of the time and get nothing back for ourselves, we get drained, burnt out and resentful. This is when we begin to understand the importance of boundaries and solitude.
There is a beautiful winter tree behind you in the background of the image. It's totally bare right now but we know that what is bare in nature will surely become full again. It is just in a transitional state at present. A time of rest, rejuvenation and renewal so that it may rebirth again.
We all experience seasons, just as the tree does. I feel that this reading is sharing that you are about to start something new, but use this quieter time to reflect and truly think about what you will birth this year? It doesn't have to be a child and at the same time, if you feel that is your journey then this is right for you. Also, to birth could be a project, a new aspect of yourself, or something you will learn….. You can use your creative energy in whatever way feels right for you. Listen to your heart and honour its guidance.
Expect only the best. A Turquoise Angel Feather has been given to you to represent GOOD LUCK. This can come in many forms! There is a synchronistic chain of events that will come that have a positive outcome for you.
Sending all of my love and endless blessings,
Frankey